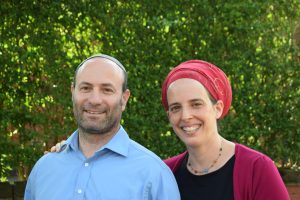 Rav Yehuda and Chagit Peles are excited to be starting OU-JLIC at Bar-Ilan University in partnership with World Mizrachi. Their home in Givat Shmuel, serves as a Beit Mizrachi for young adults at all stages in life, whether a student at Bar-Ilan or one of the other local schools, a young professional, or a young couple working in Tel Aviv or elsewhere. Everyone should always feel welcome in their open home, and to come over whether for a Shabbat meal, learning b'chavruta, or just to sit and chat over coffee or fresh soup. The Peles family is thrilled to lead a lively and warm community in Givat Shmuel.
Rav Yehuda was born in Petach-Tikva and studied in Yeshivat Har Etzion (Gush) for 9 years from both Rav Yehuda Amital and Rav Aharon Lichtenstein זצ"ל while getting his semicha in 1996 from the Chief Rabbinate of Israel. He served in the IDF as a paratrooper, then got his first and second degrees in Chinuch, Tanach and Jewish Philosophy at Herzog College in Alon Shvut. He was a teacher and a high school headmaster for 25 years, and has been conducting Chupot and leads tours in Poland.
Chagit was also born in Petach-Tikva to her parents who made Aliyah from Paris, and is fluent in French. She received her BSc from Hebrew University, MSc from The Faculty of Medicine in Tzfat, and is a Registered Dietitian who worked for Maccabi and Misrad HaBriut (Ministry of Health). In addition to raising their 8 children, she has been involved in teaching Torah and Ulpan Ivrit for years. Alongside being the Rabbanit of OU-JLIC at Bar-Ilan University, Chagit studies in Bar-Ilan for her PhD in nutrition, focusing on healthy lifestyles.
The Peles family li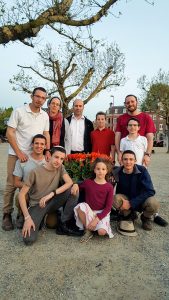 ved in Alon-Shvut before they went on their first shlichut in Manchester, UK, where Rav Yehuda headed Yavneh Girls High School. After 2006 they lived in Tzfat, and in 2017, they again went on shlichut to establish the Kehila of Mizrachi in Manchester. The Peles' children (Uriya, 23; Lavi, 21; Eitam, 20; Yeshurun, 17; Naveh, 15; Gilad, 14; Shilo, 12; and the little princess, Halel, 9) play many instruments so you don't want to miss the musical Havdalah which takes place every Motzaei Shabbat in their house, and feel free to join the family anytime for a jam session.